System for the management and complete automation of clay pigeon shooting ranges.
It supports system Shooting Data from Beretta.
Approved by I.S.S.F. and F.I.T.A.S.C.
Why choose the Multi-Pull system?
Made from several interconnected units, it allows the management of shooting ranges, the organization of competitions, the display of results via digital scoreboards and/or monitors and on internet in real time (from our website www.multipullsoft.it, on dedicated pages for each Club).
It's simple and modular.
Allows to use all the official disciplines I.S.S.F. and F.I.T.A.S.C. and many more for training.

It has multi-language support.

It's reliable and long lasting.

It is constantly updated with all the new official rules.

It has economic and safety advantages: it allows you to manage training sessions through the use of Chip Cards without the need for additional personnel and keeps track in real time on which and how many shooters are using which shooting range.

Includes free after-sales support service.
MULTI-PULL SYSTEMS'S PRODUCT CATEGORIES
Click the button if you want to look at all our products for the management and complete automation of clay pigeon shooting ranges
---
---
Or look at the individual product categories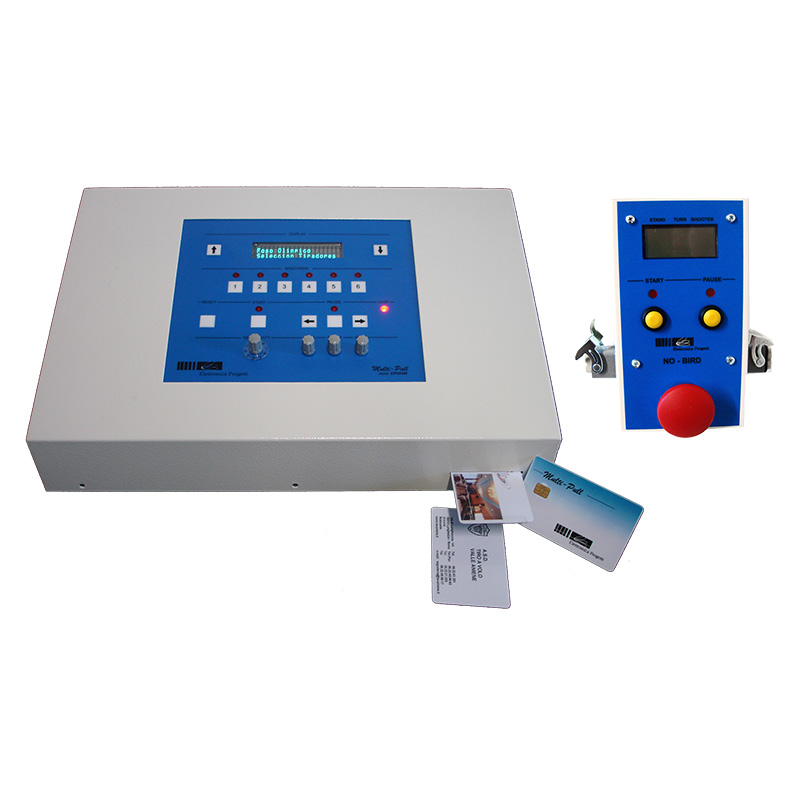 Control Unit
Mini computers dedicated to managing the correct development of the disciplines. They are connected to the microphones from which the shooter's voice is picked up and send the release signal to the shooting machines. They receive commands from the referee, send scoring signals to the scoreboards, monitors and office. They can be equipped with a wi-fi module to control trap machines without cables. Various accessories can be associated with them.
---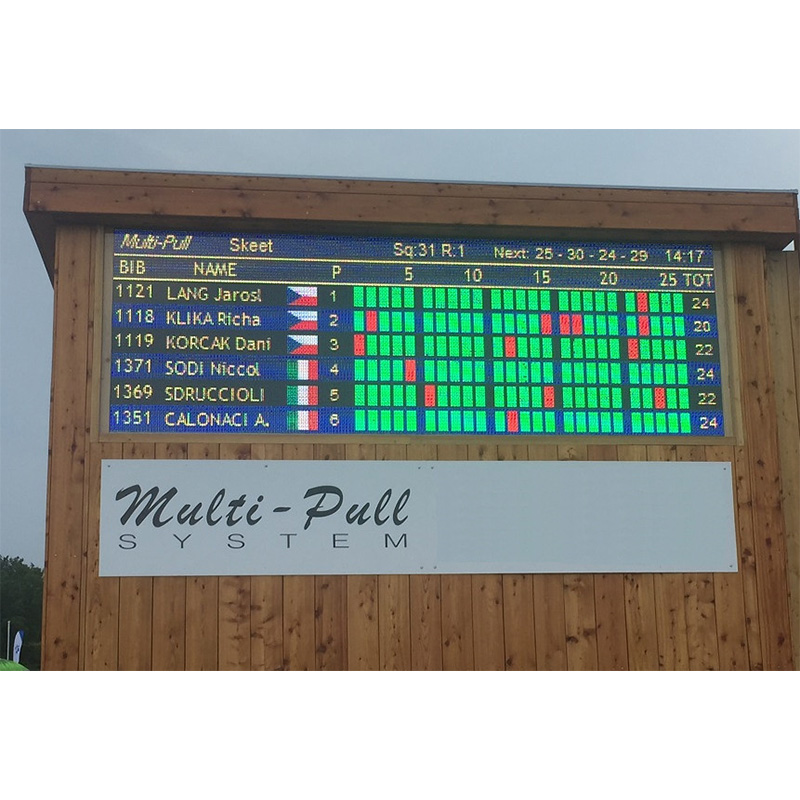 Scoreboards
Outdoor score display devices. Designed and produced internally by the company, they have a metal body in aluminum or iron depending on the model, with LED boards inside. They receive data from the control unit and the control room. They can be wired or wirelessly connected. There are different types and sizes, from the smallest of about 1 x 0.5mt up to dimensions of over 5 x 2mt. They all use high-intensity LEDs to be visible even in full sun. Available in: monochromatic, two-color and Full RGB.
---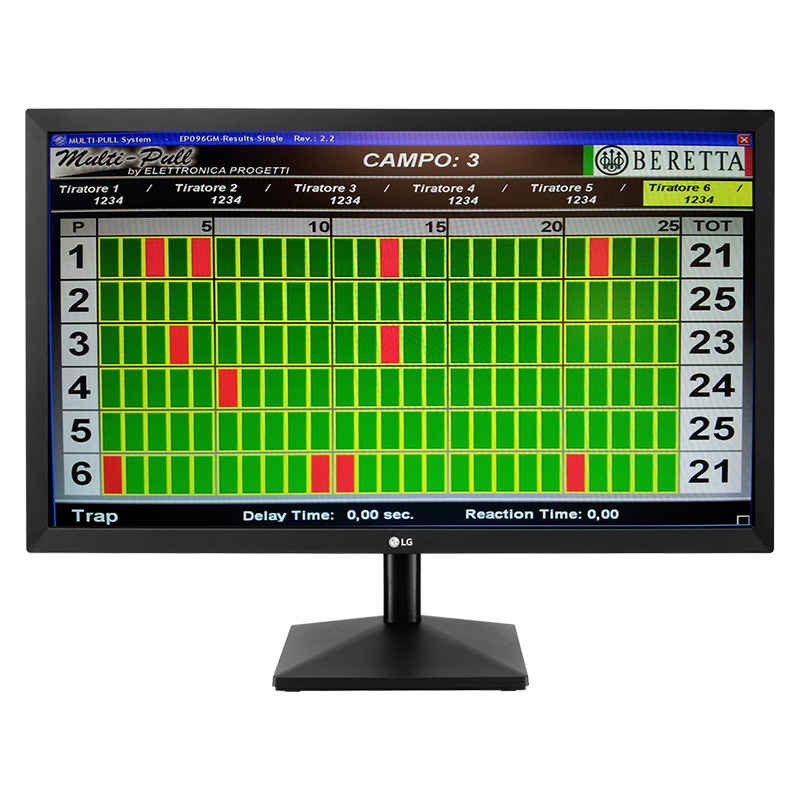 Monitor
Mini-PC to be connected to a monitor or TV to show all kind of information regarding the sporting event in progress (real-time results from multiple fields at the same time, individual fields, rankings, information to the public and advertising for sponsors). They can be used inside and outside restaurants, bars and club houses.
---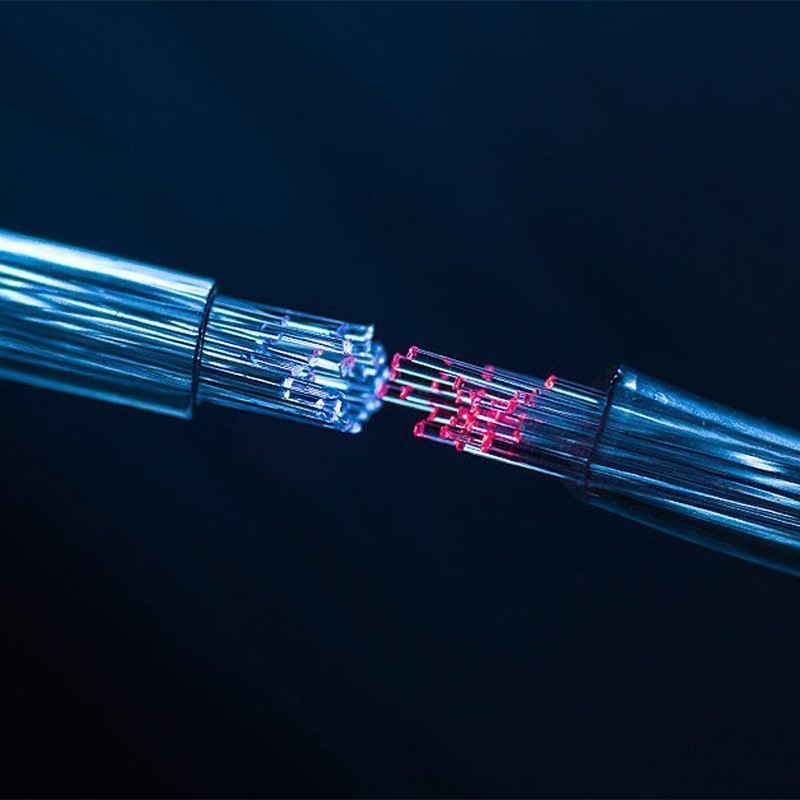 Connection systems
All devices of the Multi-Pull system can be interconnected with each other. A wide selection of type of connection can be provided, from special shielded cable, to optical fiber and it's related signal conversion interfaces, up to transmitters and receivers for wireless applications.
---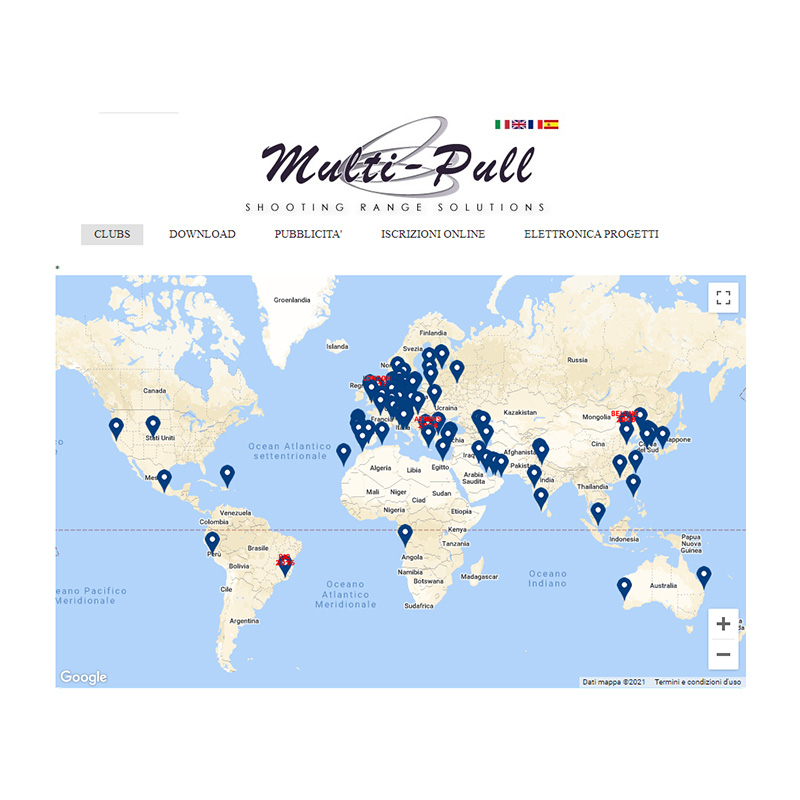 System management
The heart of the system resides in the unit called Data Concentrator which receives all the signals arriving from the control units, communicates with scoreboards, monitors and payment systems; it connects the whole system in a centralized way, allowing you to have all your fields under control in a single screen. PAired with the Multi-Pull software, allows you to manage competitions in complete autonomy, from registration to the award ceremony, with results and rankings in real time both online and locally.
---
It